Another leader of the annual rating of America's Best Hospitals is Jackson Memorial Hospital, which was founded in 1912 and represents a whole medical center of several units. The hospital provides a wide range of medical services, clinical studies and various educational medical classes for the preparation for childbirth and for the care of newborns. The hospital is practiced by obstetricians and gynecologists of the highest class, many of whom are recognized as one of the best in the US, use the most advanced medical technologies and procedures for pregnant mothers. Each of the 1500 hospital beds is equipped with everything necessary for maximum comfort.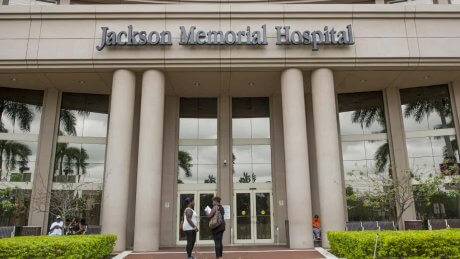 Speaking of specialization, for Jackson Memorial Hospital – is the management of pregnancies with a high risk of complications. It's not for nothing that Perinatal Intensive Care Center operates in the hospital, working around the clock 7 days a week. And next door is the New Born Neonatal Intensive Care Unit, known in America, as a center for the care and support of newborns in critical condition.
The hospital consists of three divisions: Jackson Memorial Hospital, Jackson North Medical Center, Jackson South Community Hospital and special children's department Jackson's Holtz Children's Hospital, in which newborns can receive additional treatment and care.
The maternity ward of the hospital is headed by the renowned physician Ruben A. Quintero, M.D., who leads Florida's only program for the treatment of embryos. Only a few hospitals in the US can boast of such programs that can effectively cure life-threatening and previously incurable disorders found in embryos.
Of course, the hospital has a huge number of programs for the preparation of future mothers and fathers for childbirth and childcare.
Hospital prices:
Vaginal delivery (2 day stay)
Return